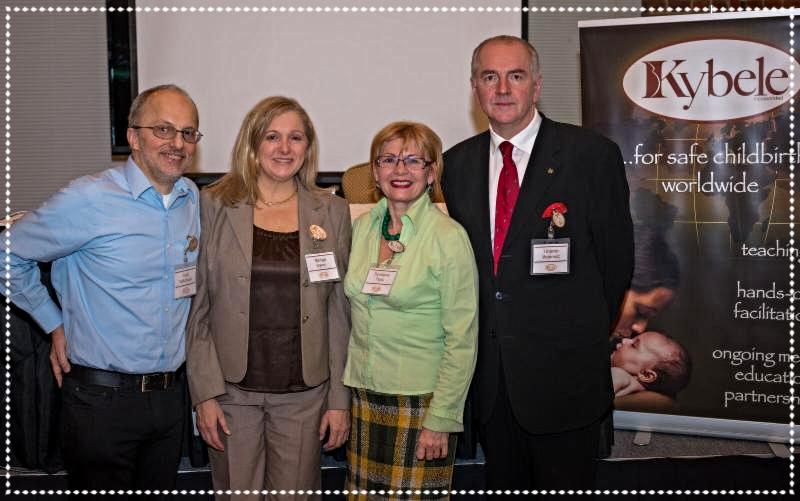 Serbia Team Co-Leader, Dr. Ivan Velickovic, Dr. Medge Owen, Dr. Borislava Pujic, and Dr. Tihomir Vejnovic following the MOU signing ceremony.
A Memorandum of Understanding (MOU) signing ceremony on behalf of the faculty of medicine at the University of Novi Sad, Serbia, and Kybele was held in Winston-Salem, North Carolina, on Feb. 26 during the opening night of the 2016 Kybele Team Leader Summit.
 
The MOU promotes a five-year program of scientific and educational cooperation between the faculty of medicine at the University of Novi Sad and Kybele and reaffirms the provision and exchange of education in the fields of obstetrics and gynaecology, anaesthesiology and neonatology. It also includes a provision for the continuation of the graduate Continuing Medical Education programs with annual Kybele faculty participation. Other elements include commitments to cooperative research endeavours for the shared interest and benefit to both institutions and exchanges of faculty, scientific and technological information, data and equipment. 
 
The MOU was signed by Dr. Tihomir Vejnovic, Director of the Institute of Perinatology Clinic of Gynecology and Obstetrics at the Clinical Center of Vojvodine, Serbia, and Dr. Medge Owen, President of Kybele.
 
Owen congratulated Novi Sad Faculty of Medicine and Kybele Serbia Program team leaders on facilitating this operational team framework and acknowledged the important contribution of Kybele's Serbia program team members and Serbian hosts. She said she was looking forward to both organizations working in a collaborative and complementary way to effectively address some of the needs and concerns of the country.
Dr. Tihomir Vejnovic, Dr. Medge Owen, and Dr. Ivan Velickovic sign the official Memorandum of Understanding. Photo by Ron George, MD